There are 2 guess who's here and some Baby Boomer jokes below them:

On the left is Mr. Walt Gislason with President Clinton,
Thanksgiving 1998.
(this is a real photo from the President's webpage!)
Tribute to Walt and Raeanna Gislason (YouTube Video)
in September 2007 by the City of Willmar, Mn.
(watch for DHS alumni on this YouTube video!)
2009 Retirement of the Gislason's (1,500 KB .pdf)
DHS CLASS OF 69
Guess Who???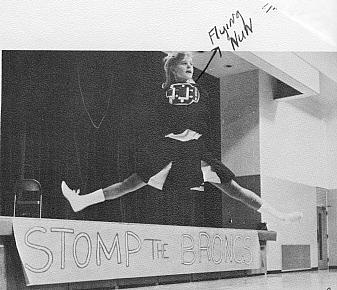 "The Flying Nun" (who wrote that at the top of the picture in my '68 yearbook?)
Hint - look below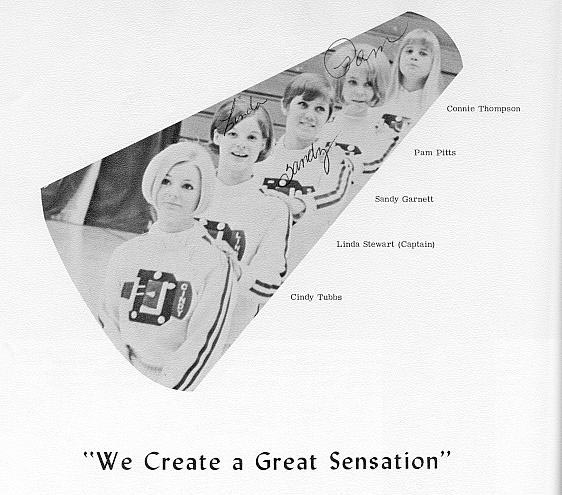 then..... and now:
Born to be Mild! a YouTube of Baby Boomers, have your sound on!
It was fun being a babyboomer...
... until now. Some of the
artists of the 60's are revising their hits with new
lyrics to accommodate aging babyboomers:

They include:

Herman's Hermits --- Mrs. Brown, You've Got a Lovely Walker

Ringo Starr --- I Get By With a Little Help From Depends

The Bee Gees --- How Can You Mend a Broken Hip?

Bobby Darin --- Splish, Splash, I Was Havin' a Flash

Roberta Flack --- The First Time Ever I Forgot Your Face

Johnny Nash --- I Can't See Clearly Now!

Paul Simon --- Fifty Ways to Lose Your Liver

The Commodores --- Once, Twice, Three Times to the Bathroom

Marvin Gaye --- Heard It Through the Grape Nuts

Procol Harem --- A Whiter Shade of Hair

Leo Sayer--- You Make Me Feel Like Napping

The Temptations --- Papa's Got a Kidney Stone

Abba --- Denture Queen

Tony Orlando --- Knock 3 Times On The Ceiling If You Hear Me Fall

Helen Reddy --- I Am Woman, Hear Me Snore

Leslie Gore --- It's My Procedure, and I'll Cry If I Want Too!

And my favorite:

Willie Nelson --- On the Commode Again
*
WHAT a Great Flash Back For Most Of Us!!
Another Goody For The Old-timers

My Mom used to cut chicken, chop eggs and spread mayo on the same cutting board with the same knife and no bleach, but we didn't seem to
get food poisoning.

My Mom used to defrost ham burger on the counter AND I used to eat it raw sometimes, too. Our school sandwiches were wrapped in wax paper in a brown paper bag, not in ice pack coolers, but I can't remember getting E. coli.

Almost all of us would have rather gone swimming in the lake instead of a pristine pool (talk about boring), no beach closures then.

The term cell phone would have conjured up a phone in a jail cell, and a pager was the school PA system.

We all took gym, not PE... and risked permanent injury with a pair of high top Ked's (only worn in gym) instead of having cross-training athletic shoes with air cushion soles and built in light reflectors. I can't recall any injuries but they must have happened because they tell
us how much safer we are now..

Flunking gym was not an option...even for stupid kids! I guess PE must be much harder than gym.

Speaking of school, we all said prayers and sang the national anthem, and staying in detention after school caught al l sorts of negative attention.

We must have had horribly damaged psyches. What an archaic health system we had then Remember school nurses? Ours wore a hat and everything.

I thought that I was supposed to accomplish something before I was allowed to be proud of myself.

I just can't recall how bored we were without computers, Play Station, Nintendo, X-box or 270 digital TV cable stations.

Oh yeah... and where was the Benadryl and sterilization kit when I got that bee sting? I could have been killed!

We played 'king of the hill' on piles of gravel left on vacant construction sites, and when we got hurt, Mom pulled out the 48-cent bottle of Mercurochrome (kids liked it better because it didn't sting like iodine did) and then we got our butt spanked.

Now it's a trip to the emergency room, followed by a 10-day dose of a $49 bottle of antibiotics, and then Mom calls the attorney to sue the contractor for leaving a horribly vicious pile of gravel where it was such a threat.

We didn't act up at the neighbor's house either because if we did, we got our butt spanked there and then we got butt spanked again when we got home.

I recall Donny Reynolds from next door coming over and doing his tricks on the front stoop, just before he fell off. Little did his Mom know that she could have owned our house. Instead, she picked him up and swatted him for being such a goof. It was a neighborhood run amuck.

To top it off, not a single person I knew had ever been told that they were from a dysfunctional family. How could we possibly have known that?

We needed to get into group therapy and anger management classes? We were obviously so duped by s o many societal ills, that we didn't even notice that the entire country wasn't taking Prozac! How did we ever survive?

LOVE TO ALL OF US WHO SHARED THIS ERA, AND TO ALL WHO DIDN'T- SORRY FOR WHAT YOU MISSED. I WOULDN'T TRADE IT FOR ANYTHING

****
HIGH SCHOOL -- 1959 VS. 2009

Scenario 1:
Joe goes quail hunting before school and then pulls into the school parking lot with his shotgun on his truck's gun rack.
1959 - Vice Principal comes over, checks out Joe's shotgun, goes to his car and gets his shotgun to show Joe.
2009 - School goes into lock down, FBI called, Joe hauled off to jail and never sees his truck or gun again. Counselors called in for traumatized students and teachers.


Scenario 2:
Johnny and Mark get into a fist fight after school.
1959 - Crowd gathers. Mark wins. Johnny and Mark shake hands and end up buddies.
2009 - Police called and SWAT team arrives. They arrest both Johnny and Mark. They are both charged with assault and expelled even though Johnny started it.

Scenario 3:
Jeffrey will not sit still in class. He disrupts the other students.
1959 - Jeffrey sent to the Principal's office and given a good paddling by the Principal. He then returns to class, sits still and does not disrupt class again..
2009 - Jeffrey is given huge doses of Ritalin. He becomes a zombie. He is then tested for ADD. The school gets extra money from the state because Jeffrey has a disability.

Scenario 4:
Billy breaks a window in his neighbor's car and his Dad gives him a whipping with his belt.
1959 - Billy is more careful next time, grows up, goes to college and becomes a successful businessman.
2009 - Billy's dad is arrested for child abuse.. Billy is sent to foster care and joins a gang. The state psychologist is told by Billy's sister that she remembers being abused herself and their dad goes to prison.
Scenario 5:
Mark gets a headache and takes some aspirin to school.
1959 - Mark shares his aspirin with the Principal out on the smoking dock.
2009 - The police are called and Mark is expelled from school for drug violations. His car is then searched for drugs and weapons.
Scenario 6:
Pedro fails high school English.
1959 - Pedro goes to summer school, passes English and goes on to college.
2009 - Pedro's cause is taken up by state. Newspaper articles appear nationally explaining that teaching English as a requirement for graduation is racist. ACLU files class action lawsuit against the state school system and Pedro's English teacher. English is then banned from core curriculum. Pedro is given his diploma anyway but ends up mowing lawns for a living because he cannot speak English.

Scenario 7:
Johnny takes apart leftover firecrackers from the Fourth of July, puts them in a model airplane paint bottle and blows up an ant hill.
1959 - A satisfying "BOOM!" Ants die.
2009 - ATF, Homeland Security and the FBI are all called. Johnny is charged with domestic terrorism. The FBI investigates his parents and all siblings are removed from the home and all computers are confiscated. Johnny's dad is placed on a terror-watch list and is never allowed to fly again.

Scenario 8:
Johnny falls while running in the school yard during recess and scrapes his knee. He is found crying by his teacher, Mary. Mary hugs him to comfort him.
1959 - In a short time, Johnny feels better and goes on playing.
2009 - Mary is accused of being a sexual predator and loses her job. She faces 3 years in State Prison. Johnny undergoes 3 years of therapy.
GIRLFRIENDS!
A group of 40 year old girlfriends discuss and discuss where they should meet for dinner. Finally it is agreed upon that they should meet at Luigiís Restaurant because the waiters there are hot looking and muscular.

10 years later, at 50 years of age, the group meets again and once again they discuss and discuss where they should meet. Finally it is agreed upon that they should meet at Luigiís Restaurant because the food and the wine selection there is very good.

10 years later at 60 years of age, the group meets again and once again they discuss and discuss where they should meet. Finally it is agreed upon that they should meet at Luigiís Restaurant because they can eat there in peace and quiet and the restaurant is smoke free.

10 years later, at 70 years of age, the group meets again and once again they discuss and discuss where they should meet. Finally it is agreed upon that they should meet at Luigiís Restaurant because the establishment is wheel chair accessible and they even have an elevator.

10 years later, at 80 years of age, the group meets again and once again they discuss and discuss where they should meet. Finally it is agreed upon that they should meet at Luigiís Restaurant since they have never been there before.
HAVE YOU EVER BEEN GUILTY OF LOOKING AT OTHERS YOUR OWN AGE AND THINKING,

"SURELY I CAN'T LOOK THAT OLD?" WELL... YOU'LL RELATE TO THIS ONE!

I WAS SITTING IN THE WAITING ROOM FOR MY FIRST APPOINTMENT WITH A NEW
DENTIST. I NOTICED HIS DDS DIPLOMA, WHICH BORE HIS FULL NAME. SUDDENLY, I
REMEMBERED A TALL, HANDSOME, DARK-HAIRED BOY WITH THE SAME NAME HAD BEEN
IN MY HIGH SCHOOL CLASS SOME 40-ODD YEARS AGO. COULD HE BE THE SAME GUY
THAT I HAD A SECRET CRUSH ON, WAY BACK THEN??
UPON SEEING HIM, HOWEVER, I QUICKLY DISCARDED ANY SUCH THOUGHT. THIS
BALDING, GRAY-HAIRED MAN WITH THE DEEPLY LINED FACE WAS WAY TOO OLD TO
HAVE BEEN MY CLASSMATE. HMMM ...OR COULD HE???
AFTER HE EXAMINED MY TEETH, I ASKED HIM IF HE HAD ATTENDED MORGAN PARK
HIGH SCHOOL.
"YES. YES, I DID. I'M A MUSTANG," HE GLEAMED WITH PRIDE.
"WHEN DID YOU GRADUATE?" I ASKED.
HE ANSWERED, "IN 1959. WHY DO YOU ASK?"
"YOU WERE IN MY CLASS!" I EXCLAIMED.
HE LOOKED AT ME CLOSELY. THEN, THAT UGLY, OLD, WRINKLED SON-OF-A-BITCH ASKED:
"WHAT DID YOU TEACH?"
Mirror, mirror on the wall,
Do you have to tell it all?

Where do you get the glaring right
To make my clothes look just too tight?

I think I'm fine but I can see
you won't co-operate with me;

The way you let the shadows play,
You'd think my hair was getting grey

What's that, you say? A double chin?
No, that's the way the light comes in;

If you persist in peering so,
You'll confiscate my facial glow,

And then if you're not hanging straight,
You'll tell me next I'm gaining weight;

I'm really quite upset with you,
For giving this distorted view;

I hate you being smug and wise...
O, look what's happened to my thighs!

I warn you now, O mirrored wall,
Since we're not on speaking terms at all,

If I look like this in my new jeans,
You'll find yourself in smithereens!!
**
How old is Grandpa?

Stay with this -- the answer is at the end -- it will blow you away.

One evening a grandson was talking to his grandfather about current events. The grandson asked his grandfather what he thought about the shootings at schools, the computer age, and just things in general.
The Grandpa replied, "Well, let me think a minute, I was born before:

' television,

' penicillin,

' polio shots,

' frozen foods,

' Xerox,

' contact lenses,

' Frisbees and

' the pill.

There was no such thing as:

' radar,

' credit cards,

' laser beams or

' ball-point pens.

Man had not invented:

' pantyhose,

' air conditioners,

' dishwashers,

' clothes dryers,

' and the clothes were hung out to dry in the fresh air and

' man hadn't yet walked on the moon.



Your Grandmother and I got married first-and then lived together.

Every family had a father and a mother.

Until I was 25, I called every man older than I, 'Sir'- and after I turned 25, I still called policemen, firemen and every man with a title, "Sir.'

We were before gay-rights, computer- dating, dual careers, daycare centers, and group therapy.

Our lives were governed by the Ten Commandments, good judgment, and common sense.

We were taught to know the difference between right and wrong and to stand up and take responsibility for our actions.

Serving your country was a privilege; living in this country was a bigger privilege.

We thought fast food was what people ate during "Lent."

Having a meaningful relationship meant getting along with your cousins.

Draft dodgers were people who closed their front doors when the evening breeze started.

Time-sharing meant time the family spent together in the evenings and weekends---not purchasing condominiums.



We never heard of satellite radios, FM radios, tape decks, CDs, electric typewriters, yogurt, or guys wearing earrings, ugh.

We listened to the Big Bands, Jack Benny, and the President's speeches on our radios.

And I don't ever remember any kid blowing his brains out listening to Tommy Dorsey.

If you saw anything with 'Made in Japan' on it, it was junk.

The term 'making out' referred to how you did on your school exam.

Pizza Hut, McDonald's, and instant coffee were unheard of.

We had 5 &10-cent stores where you could actually buy things for 5 and 10 cents.

Ice-cream cones, phone calls, rides on a streetcar, and a Coca-Cola & Pepsi Cola were all a nickel.

And if you didn't want to splurge, you could spend your nickel on enough stamps to mail 1 letter a nd 2 postcards.

You could buy a new Chevy Coupe for $600 but who could afford one?

Too bad, because gas was 11 cents a gallon.

In my day:

' "grass" was mowed,

' "coke" was a cold soft drink,

' "pot" was something your mother cooked in and

' "rock music" was your grandmother's lullaby.

' "Aids" were helpers in the Principal's office,

' " chip" meant a piece of wood,

' "hardware" was found in a hardware store and

' "software" wasn't even a word.


And we were the last generation to actually believe that a lady needed a husband to have a baby. No wonder people call us "old and confused" and say there is a generation gap... and how old do you think I am?

I bet you have this old man in mind...you are in for a shock!

Read on to see -- pretty scary if you think about it and pretty sad at the same time.


This man would be only 58 years old!
************
A.A.A.D.D.

KNOW THE SYMPTOMS

Thank goodness there's a name for this disorder.
Somehow I feel better, even though I have it !

Recently I was diagnosed with A.A.A.D.D.
Age Activated Attention Deficit Disorder.
This is how it manifests:

I decide to water my garden.
As I turn on the hose in the driveway,
I look over at my car and decide it needs washing.

As I start toward the garage,
I notice mail on the porch table that
I brought up from the mail box earlier.

I decide to go through the mail before I wash the car..

I lay my car keys on the table,
put the junk mail in the garbage can under the table
and notice that the can is full.

So I decide to put the bills back
on the table and take out the garbage first.
But then I think,
since I'm going to be near the mailbox
when I take out the garbage anyway,
I may as well pay the bills first.

I take my checkbook off the table,
and see that there is only one check left.

My extra checks are in my desk in the study,
so I go inside the house to my desk where
I find the can of soda I'd been drinking.

I'm going to look for my checks,
but first I need to push the soda aside
so that I don't accidentally knock it over.

The soda is getting warm,
and I decide to put it in the refrigerator to keep it cold.

As I head toward the kitchen with the soda,
a vase of flowers on the counter
catches my eye--they need water.

I put the soda on the counter and
discover my reading glasses that
I've been searching for all morning.

I decide I'd better put them back on my desk,
but first I'm going to water the flowers.

I set the glasses back down on the counter,
fill a container with water and suddenly spot the TV remote.
Someone has left it on the kitchen table.

I realize that tonight when we go to watch TV,
I'll be looking for the remote,
but I won't remember that it's on the kitchen table,
so I decide to put it back in the den where it belongs,
but first I'll water the flowers.

I pour some water in the flowers,
but quite a bit of it spills on the floor..

So I set the remote back on the table,
get some towels, and wipe up the spill.

Then I head down the hall trying to
remember what I was planning to do.

At the end of the day:

the car isn't washed

the bills aren't paid

there is a warm can of soda sitting on the counter,

the flowers don't have enough water,

there is still only 1 check in my check book,

I can't find the remote,

I can't find my glasses,

and I don't remember what I did with the car keys.

Then when I try to figure out why nothing got done today,
I'm really baffled because I know I was busy all day,
and I'm really tired.

I realize this is a serious problem
and I'll try to get some help for it,
but first I'll check my e-mail....

Then I say, do me a favor.
Forward this message to everyone you know
because I don't remember to whom I've sent it.

Don't laugh -- if this isn't you yet, your day is coming!!
+++
Comments made in the year 1955!
That's only 54 years ago!

'I'll tell you one thing, if things keep going the way they are, it's going to be impossible to buy a week's groceries for $20.00.

'Have you seen the new cars coming out next year? It won't be long before $2, 000.00 will only buy a used one.

'If cigarettes keep going up in price, I'm going to quit. A quarter a pack is ridiculous.

'Did you hear the post office is thinking about charging a dime just to mail a letter

'If they raise the minimum wage to $1.00, nobody will be able to hire outside help at the store.

'When I first started driving, who would have thought gas would someday cost 29 cents a gallon. Guess we'd be better off leaving the car in the garage.

'I'm afraid to send my kids to the movies any more. Ever since they let Clark Gable get by with saying DAMN in GONE WITH THE WIND, it seems every new movie has either HELL or DAMN in it.

'I read the other day where some scientist thinks it's possible to put a man on the moon by the end of the century. They even have some fellows they call astronauts preparing for it down in Texas ..

'Did you see where some baseball player just signed a contract for $75,000 a year just to play ball? It wouldn't surprise me if someday they'll be making more than the President.

'I never thought I'd see the day all our kitchen appliances would be electric . They are even making electric typewriters now.

'It's too bad things are so tough nowadays.. I see where a few married women are having to work to make ends meet.

'It won't be long before young couples are going to have to hire someone to watch their kids so they can both work.

'I'm afraid the Volkswagen car is going to open the door to a whole lot of foreign business.

'Thank goodness I won't live to see the day when the Government takes half our income in taxes. I sometimes wonder if we are electing the best people to congress.

'The drive-in restaurant is convenient in nice weather, but I seriously doubt they will ever catch on.

'There is no sense going to Lincoln or Omaha anymore for a weekend, it costs nearly $15.00 a night to stay in a hotel.

'No one can afford to be sick anymore, at $35.00 a day in the hospital it's too rich for my blood.'

'If they think I'll pay 50 cents for a hair cut, forget it.'
Yes, 1955, when you were just a youngin' !
+++
contact webmaster Connie Thompson Julien DHS '69