DHS CLASS OF 69
30 year reunion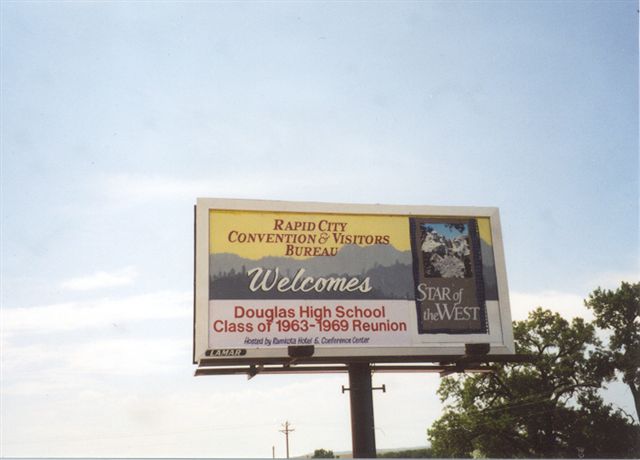 Welcome sign at the Rapid City Airport for our 2000 Reunion!!
Thank you to our reunion host Hotel in Rapid City, the Ramkota, for this wonderful sign!
Above photo taken in front of the trophy case inside the school.
From Lt to rt: Terry Crawley (70), Mike Comstock (70), Roger Indorf (69), Gerry Mattisoff (69), Tom Cordingly (69), Andy Brochamp (69)
These pictures were taken in the Mount Rushmore cafeteria on Sunday morning, July 1999.
Above, From the left is Reed Huling, Danny Foster's wife, Danny Foster, Mr. Gislason, Mark Miller, Mark's wife, and behind are Tom Cordingly's kids and his wife Linda. pic by Roger Indorf


Above, and on the other side of the table: Dan Foster and wife, Mrs. Gislason, Reed Huling, Mr. G, Mark Miller and wife.